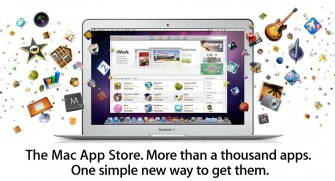 Sonunda beklediğimiz gibi bugün Mac App Store açıldı. Yayınlanan Mac OS X 10.6.6 güncellemesini yükleyen Snow Leopard kullanıcıları Ekim ayından beri beklenen Mac App Store'a kavuştu. 1000'den fazla ücretli ve ücretsiz uygulama Mac kullanıcıları tarafından indirilmeyi bekliyor. Mac App Store'dan iTunes hesabınızı kullanarak uygulamaları satın alabilir, indirdiğiniz uygulamaların güncellemeleri çıktığında anında haberdar olabilirsiniz.
Şu an için Mac App Store detaylı uygulama tanıtımları, ekran görüntüleri, kullanıcı yorumları, kategoriler, listeler gibi artı özellikleriyle birlikte App Store'un iOS'te yarattığı devrimi Mac'te de gerçekleştirecek gibi duruyor. Görünüşe göre gerçekten de Mac-iPhone-iPad döngüsü tekrar Mac'e dönmüş durumda. Bakalım şimdi ne gibi gelişmeler olacak ve bunların döngünün bir sonraki basamağı olan iOS'e ne gibi getirileri olacak?
Basın bildirisi:
Apple's Mac App Store Opens for Business

CUPERTINO, California—January 6, 2011—Apple® today announced that the Mac® App Store℠ is now open for business with more than 1,000 free and paid apps. The Mac App Store brings the revolutionary App Store experience to the Mac, so you can find great new apps, buy them using your iTunes® account, download and install them in just one step. The Mac App Store is available for Snow Leopard® users through Software Update as part of Mac OS® X v10.6.6.

"With more than 1,000 apps, the Mac App Store is off to a great start," said Steve Jobs, Apple's CEO. "We think users are going to love this innovative new way to discover and buy their favorite apps."

The Mac App Store offers apps in Education, Games, Graphics & Design, Lifestyle, Productivity, Utilities and other categories. Users can browse new and noteworthy apps, find out what's hot, see staff favorites, search categories and look up top charts for paid and free apps, as well as user ratings and reviews.

Entirely new apps, as well as current Mac favorites, are available from developers such as Autodesk, Ancestry.com and Boinx. iPhoto®, iMovie® and GarageBand® apps from Apple's popular iLife® '11 suite are available individually in the Mac App Store for $14.99 each, and Pages®, Keynote® and Numbers® apps from iWork® are available for $19.99 each. Aperture® 3, Apple's powerful photo editing and management software, is available for $79.99.

"We're delighted to bring our professional-grade paint and drawing app, Autodesk SketchBook Pro, to the Mac App Store on its first day of launch," said Carl Bass, Autodesk's CEO. "We've seen tremendous success on the Mac, iPhone and iPad with multiple apps. We're excited to offer SketchBook Pro on the Mac App Store so artists can easily create everything from quick sketches to high-quality artwork right on their Macs."

"By offering the Ancestry.com Family Tree Maker app on the Mac App Store, we're making it even easier for people to discover and access their family history," said Tim Sullivan, Ancestry.com's CEO. "The Mac App Store will drive a new generation of innovation on the Mac platform."

"We're thrilled to have our award-winning animation, video production and photography software available on the new Mac App Store," said Oliver Breidenbach, Boinx Software's CEO. "The Mac App Store makes it easier than ever for consumers to access all the innovative software designed for the Mac."

To get the Mac App Store, download the Mac OS X v10.6.6 Software Update or visit www.apple.com/mac/app-store. To find out more about developing for the Mac App Store visit developer.apple.com/programs/mac.